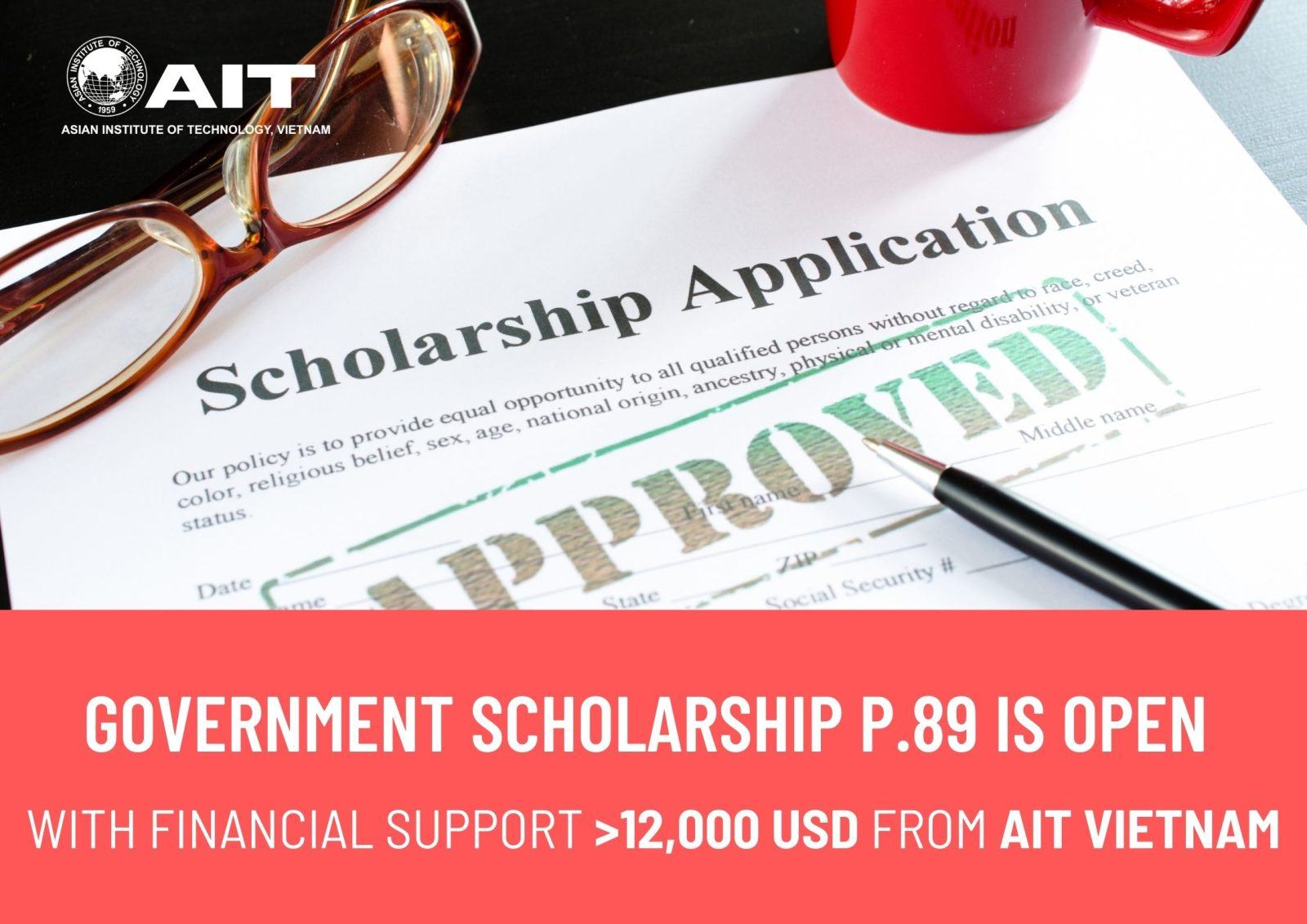 According to Decision No. 89/QD-TTg dated January 18th, 2019 of the Prime Minister promulgating the Scheme on capacity building of lecturers and managers of higher education institutions to meet the requirements of innovation, basic and comprehensive education, and training for the period of 2019 – 2030 (hereinafter referred to as Project 89 for short).
With a financial support more than $12,000 (~ 270,000,000 VND) when applying to study at AIT, this is an extremely valuable scholarship for students wishing to train for a PhD and only lasts until 2030.
JOIN THE PROJECT NO.89 – VIEW AIT VIETNAM'S ACADEMIC PROGRAMS HERE
Contact for consultation: +84 (0)8 8989 2289
I/ Benefits of Project No.89 recipients at AIT:
| | |
| --- | --- |
| Scholarship Coverage | Amount of financial support (USD) |
| Free Bridging English course – not by cash | 1000 USD |
| Monthly student living allowances (3 YEARS) | 240 USD/ month |
| Attending International Conferences: 2 times (travelling, reg, etc.) | 2000 USD |
| Setup for the first time arrival to Bangkok | 500 USD |
| Total | 12,140 USD (~272,000,000 VNĐ) |
1.To be granted scholarships and training expenses corresponding to the qualifications and training forms that have been applied for and matriculated within the time limit specified in Clause 4, Article 4 of the Circular.
2.To enjoy the benefits specified in the Regulation on management of Vietnamese citizens studying abroad by the Minister of Education and Training when sent to study abroad.
3.Lecturers of public higher education institutions are entitled to additional benefits according to the Government's regulations on training and fostering cadres, civil servants and public employees.
4.Lecturers of non-public higher education institutions are entitled to additional benefits (if any) as agreed upon between the sender and the sending institution.
II/ Who is eligible to apply for Program No.89?
1. Lecturers and administrators working for higher education institutions nationwide.
2. Scientists and doctorate degree holders working abroad or at domestic entities, meeting lecturer's required standards and committed to working at higher education institutions in Vietnam.
3. Those who have been enrolled in or are taking a doctoral degree program at home or abroad or in a domestic or foreign joint program, but are not covered by the Proposal for training of lecturers holding doctorate degrees for universities and colleges in the 2010-2020 period (according to the Prime Minister's Decision No. 911/QD-TTg dated June 17, 2010), and who have made commitments to becoming lecturers at higher education institutions in Vietnam.
Contact us now to get advice on Scholarship No.89 and your favorite field of study!
JOIN THE PROJECT NO.89 – VIEW AIT VIETNAM'S ACADEMIC PROGRAMS HERE
Contact for consultation: +84 (0)8 8989 2289