On May 27, 2023 in Hanoi, the Asian Institute of Technology in Vietnam (AIT Vietnam) celebrated its 30th anniversary, marking an important milestone in the development journey.


The celebration ceremony was attended by who were former leaders of the state agencies, Minister of Royal Thai Embassy to Vietnam, leaders of departments and businesses, large corporations in Vietnam, presidents of universities, scientists, lecturers, officials, alumni and students of AIT, who have contributed to the 30-year development journey of AIT Vietnam.

Speaking at the opening ceremony, Professor Kazuo Yamamoto, President of the Asian Institute of Technology (AIT) expressed his joy and pride in the achievements and contributions of AIT Vietnam over the past 30 years, as well as expectations for the future.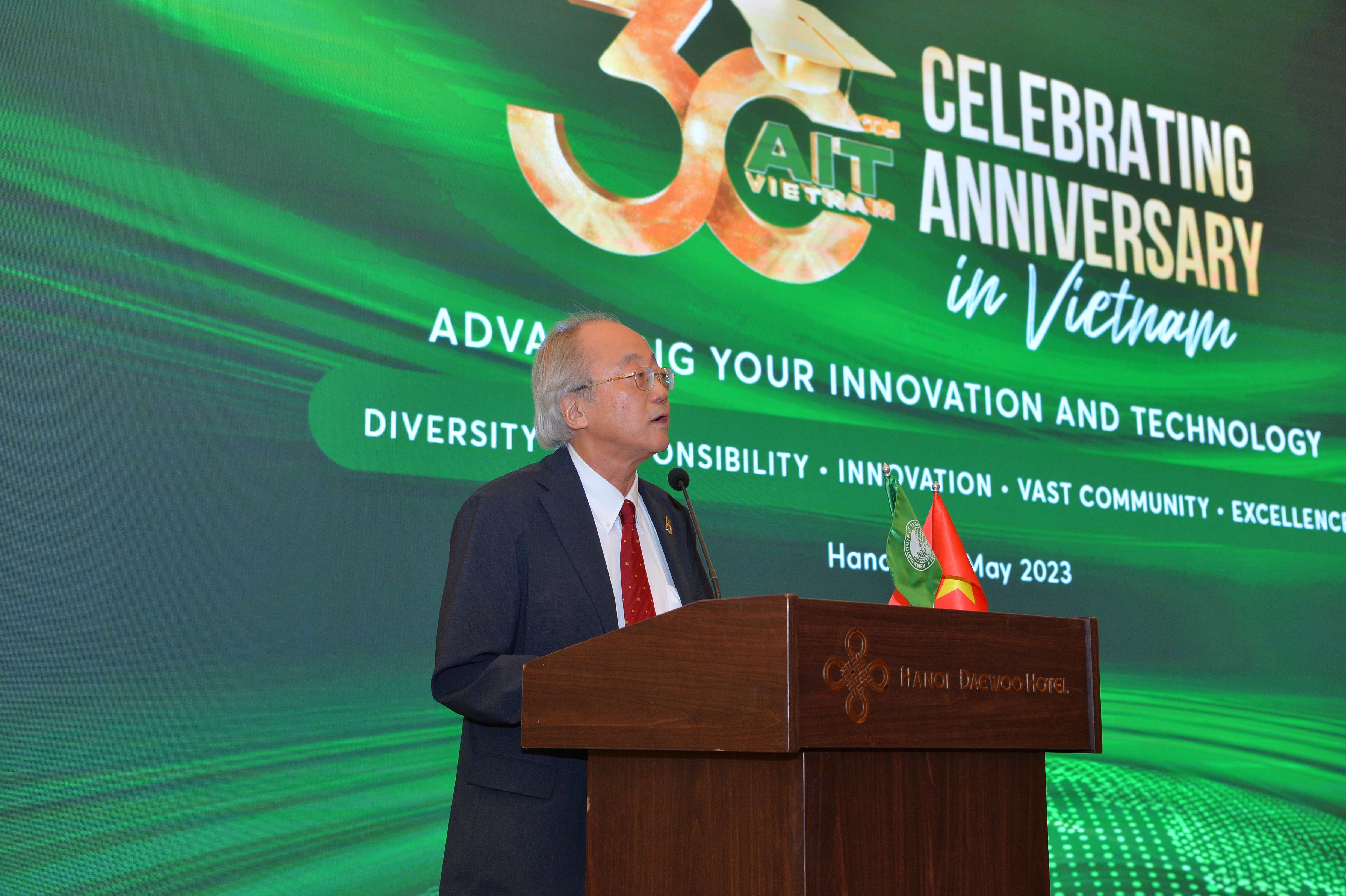 Also at the ceremony, Prof. Nguyen Thien Nhan – Member of 15th National Assembly, Former Politburo Member, Former Deputy Prime Minister, Former Minister of Education and Training, Former Chairman of National Fatherland Front, Former Party Chief of HCMC Party Committee, assessed that 30 years of development of AIT Vietnam is also 30 years of Vietnam's rapid economic development and affirmed the contributions of AIT Vietnam in the role of improving the quality of human resources and the development of the country.


Ms. Morakot Janemathukorn – Minister, Charge d'Affaires a.i. Royal Thai Embassy to Vietnam, who used to study at AIT, also congratulated AIT Vietnam on the 30th anniversary, and appreciated the contribution of AIT and AIT Vietnam in connecting and training personnel for businesses of Thailand and Vietnam.


Established in 1993, according to the Agreement between the Government of Vietnam and the Asian Institute of Technology, AIT Vietnam is an international organization whose the mission is as an international gateway for technology transfer, supporting the development of economy of Vietnam in particular and the development of the region in general through education, training and graduate community outreach services.

AIT Vietnam representative said that, during the 30-year journey of establishment and development, AIT Vietnam has trained nearly 4,200 masters and doctorates with international degrees and thousands of experts in many other fields. Since 2020, AIT Vietnam has supported the training of more than 3,000 experts in the field of digital transformation, contributing to the implementation of the National Digital Transformation Program and Vietnam's Industry 4.0.

At the event, Dr. Phung Van Dong – Director of AIT Vietnam sent his gratitude to the invited delegates, who have made great contributions to bringing AIT to Vietnam in the proud journey of 30 years of establishment and development.


"AIT Vietnam persists with its mission of promoting sustainable development, technological progress and innovation in Vietnam and the region, contributing to the building of the digital economy and digital society. AIT Vietnam will not stop creating, innovating and doing better, worthy of the trust and title of paving the way for international educational institutions in Vietnam", affirmed the representative of AIT Vietnam.